When it comes to iPhone, style and functionality are key. As an iPhone user, you can easily enhance your iPhone's appearance depending on the phone case you decide to pair it up with and the perfect phone case can make all the difference. Whether you're looking for a case with that special "wow" factor or something more practical, you need an iPhone 14 Pro case that will keep your phone in pristine condition while adding a touch of class. That's why I have gathered down 4 must-have qualities of iPhone 14 Pro cases that you must look for before choosing the right one!
4 Must-Have Qualities Your iPhone 14 Pro Case Should Have
 1. MagSafe Technology: The Ultimate Chargeless Charging Hack!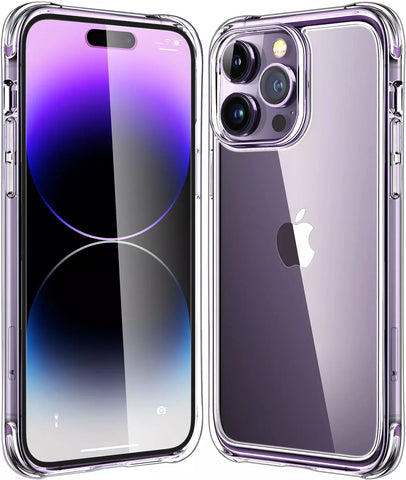 Since Apple debuted Magsafe technology it in its iPhone 12 models, it has been a game-changer for how we use and charge our iPhones. MagSafe-compatible iPhone 14 Pro cases are designed to take advantage of this advanced wireless charging technology, allowing users to enjoy hands-free phone access and increased convenience. You no longer have to worry about repeatedly plugging in or removing your phone from its charger; just place it down on a charging surface, and you're done! Pretty easy, right?
You can enjoy hands-free use in the car with a MagSafe car mount or get an unbeatable workout experience when using a waterproof armband. In the office, take advantage of increased convenience via MagSafe charging docks. With a MagSafe compatible iPhone case, charging becomes a breeze.  Go out and experience nature and the great outdoors with confidence, knowing that you have access to quick and easy power-ups by using portable MagSafe chargers that attach directly to the back of your MagSafe iPhone compatible case. It really doesn't get much better than this!
2. Personality in the Details to Match Your Vibe
The IPhone 14 Pro model is advertised by Apple as having a "bigger/better" value and additional features compared to other iPhone 14 series. So, getting yourself an iPhone 14 Pro is already a statement on its own. It shows a sense of sophistication and how much you appreciate premium quality products. From simple but elegant clear transparent cases to aesthetically pleasing silicon multi-colored cases, choose your iPhone 14 Pro case which matches with your vibe and personality. 
For someone looking to make a bold statement, a bright orange case could be a perfect choice. It provides an eye-catching contrast against the sleek black of the phone yet still retains its own unique identity in terms of style. For someone who wants something more subtle but still stylish, gray cases are ideal; they provide a low-key look while adding just enough of an edge to give it some character. People who prefer a more classic look should consider brown leather cases for a timeless appeal. If you want something that stands out with its own unique styling, silver and gold metal cases can be just the statement you need, or opt for vibrant floral or geometric designs if you want to infuse your case with personality.
Confused about which color to choose? Simply clear out the mind fog and protect your iPhone 14 Pro with a crystal-clear transparent case that not only showcases your phone's beautiful exterior but also reflects away the light from your device, keeping it cooler all around!
3. The Eco-Friendly Phone Case for a Greener Planet
Your iPhone 14 Pro deserves the best protection for its meticulous body, ceramic shield screen, stainless steel enclosure and the textured matte glass back. Investing in a quality phone case is the key to keeping it safe from damage and wear, so you can enjoy your device for years to come. 
To ensure optimal security and improved longevity, look for an iPhone 14 Pro case made from premium materials that are durable enough to last through accidents and falls. These include liquid silicone that offers ultimate shock absorption, as well as transparent plastic cases with anti-yellowing technology that preserves your phone's vibrant look over time. 
Not only should you consider the durability of these cases but also their environmental impact; choose eco-friendly options crafted from sustainable materials that are gentle on the planet. 
 4. Safeguard Your iPhone's Triple-Lens Rear Camera
Your iPhone 14 Pro is equipped with incredibly advanced camera technology, and you need to make sure that, in the event of an accident, it's protected. The camera bumps on the iPhone 14 Pro protrude further and are larger to accommodate the new lenses. Hence lens protection is more important now than ever when deciding to buy a phone case for your iPhone 14 pro.  Phone cases for the iPhone 14 pro feature lens protection lips which protect the camera lens and they provide additional cushioning around the edge of the camera lens. This prevents scratches and cracks after accidental falls.
This extra protection ensures that your iPhone camera lens remains undamaged and continues to take stunning photos without any distortion or color shifts. This feature also helps protect against dust, dirt, and water damage, so you don't have to worry about any serious damage being done. So, isn't it the foremost feature to look for when buying your iPhone 14 Pro Case?
Which iPhone 14 Pro Case Should You Buy
When on the hunt to choose a phone case for your iPhone 14 Pro you are likely to find out that, like any product, there's no phone case that will be good in every way. So, it's up to you to decide which quality is most important to you, so you can ultimately decide on your iPhone 14 Pro case.
A favorable iPhone 14 Pro case should be fully protective, lightweight, scratch resistant and easy to install. You should make sure you choose a case with precise cuts made for the buttons, charger, and speakers. Below I have suggested some cases with their specialty to help you decide which case you can buy for your iPhone 14 Pro.
Mkeke's Clear Case, as Crystal as Transparent Glass
Aren't you tired of the same transparent cases being sold under different brand names? Don't you want something that sets you apart from the crowd? Mkeke Crystal Clear Case is designed to fit your iPhone 14 Pro flawlessly. The case stays persistent against wear and tear of your daily use. Unlike other clear cases, it does not get yellow or greasy with the passage of time. So, you never have to shy away from flaunting the bold color on the back of your iPhone 14 Pro.
Charge, Snap, and Protect with Mkeke MagSafe Case
Most MagSafe cases promise a lot, but do their claims hold up? With several reported issues, the reliability of many MagSafe cases is considered to be questionable. However, Mkeke MagSafe Enhanced Case is an accessory that you can always count on. With more magnetic strength, it not only enables stronger and faster wireless charging but also helps create better compatibility with other accessories like fitness and car vent mounts.
Mkeke Silicone Case that Doubles as a Fashion Accessory
For those who want to make a fashion statement and keep up with the trends then most definitely Mekeke's Liquid Silicone Case  is the go-to-choice. The case is lightweight and durable, so it will maintain its functionality and aesthetics for longer periods as opposed to its counterparts. The case has a smooth exterior which is pleasant to touch and is engineered to resist cracks and scratches, ultimately imparting it a better look. 
Vibrant Splash of Color with Mkeke Colorful Case
Mkeke Colorful Case is not just an ordinary iPhone 14 Pro case. With an assortment of colors to choose from, you can make your iPhone case match your personality. From the classic black to the bold purple to the elegant subdued green, you can make any iPhone uniquely yours. Experiment with different styles and see which fits you the best. 
Final Thoughts
Mkeke ensures that there is a variety of iPhone 14 Pro cases available to match your needs and style. When you opt for a Mkeke case, you know you are not settling for anything less than the best for your flagship device. You need a phone case that's as cutting-edge as your device and that complements your daily iPhone use. This article summarizes the best phone cases for the iPhone 14 Pro. Mkeke cases offer unbeatable protection, unparalleled style, and outstanding functionality. Don't waste another moment with a subpar phone case; upgrade to the best of the best today!